Charlie Castellaneta - Business & Finance Manager
Born and raised in Barre, Vermont, I decided to join the family business after graduating from Spaulding High School and have been employed here for 5 years.
I started as a reconditioning tech in our Recon Department and from there learned the Service Department to become a Service Advisor. After a year or so, I moved into the Sales Department and then to my current role as Business Manager.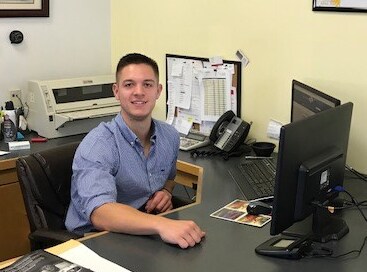 As Business Manager, I have been assisting customers with paperwork and insuring that they are fully covered for the length of their loan. Insuring they only make a car payment and not a payment and repairs.
When I am not working, my hobbies are, flying, working out and spending time with my family and friends.
Please stop by and say, Hi, I love seeing our customers.
I look forward to meeting you and assisting you in any way to make your next car buying experience EXCELLENT!!!
Email Me
Finance your Vehicle with Help from the Experts at Formula Nissan
When you finance a new Nissan model or pre-owned vehicle, you will want to consult the experts for the best options and an organized process. Here at Formula Nissan, this is exactly what you will find, as our financing consultants have years of experiences working on Nissan lease and auto loan plans with shoppers in Barre, VT that pass through our showroom doors.
Get Pre-Approved Today!
Value Your Trade
Reasons to Feel Good about Financing with our Team
Our team is transparent in the financing process that we unveil here in Barre, VT, providing you with all of the proper details and context needed to make a decision that you can feel good about. Working with outside lenders to secure a suitable auto loan, we can even review whether buying or leasing may be a good fit for you specifically. We also can provide a fair trade-in value for the vehicle you currently own, which you can use towards your next purchase. You will feel confident in the financing process as a whole when working one on one with our team.
Dependability with Finance and a Commitment to Customer Service
This confidence also stems from the dependability that our team displays day in and day out, with excellent customer service that is targeted at your diverse array of needs as our customer. We are here to take your questions and to help turn a sometimes complicated financing process into something that is straightforward and easy for you to understand. With consultations that help us gather details on everything from your personal preferences to any concerns that you may have, our team is ready to put you in a good position with your lease and auto loan finance plan for a new Nissan model or pre-owned vehicle in Barre.
Contact Our Finance Experts Today to Get Started
Our experts are ready to review the pre-approval finance application you submit, also with answers to the questions that you have in mind. Please reach out to our team in Barre, VT today to get started!